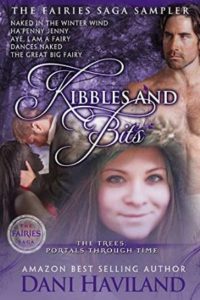 Kibbles and Bits
Kibbles and Bits is a literary sampler of excerpts from the first five published books of time travel series, THE FAIRIES SAGA.
Enjoy a chapter or two of the stories of the friends and family who travel through The Trees, the portal between the 18th and 21st centuries, to interact with the fictional characters of a popular time travel series who just happen to be real.
It all begins with NAKED IN THE WINTER WIND, the first book in the series. A plump and perky concerned old lady falls off a cliff and winds up 230 years in the past, in a rejuvenated body, but without a memory. How and why did it happen? The answer is in here.
Why is the sweet little 18th-century psychic girl called HA'PENNY JENNY?
Who is good-looking Lord James Melbourne speaking with when he says, AYE, I AM A FAIRY?
How did Marty Melbourne get the name of DANCES NAKED? The explanation is in here, it isn't nasty, and will probably make you laugh…or groan.
Chapters from THE GREAT BIG FAIRY reveal how Benji learned to become invisible, came to be called 'the great big fairy,' how he 'bartered' and won a 6'4" woman, and how our 6'7" hero finds out he has an Australian brother-in-law who is just as tall as he is.
Sample each book and develop a craving for the continuing stories of THE FAIRIES SAGA.