About Me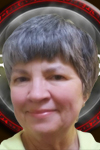 Name: Dani Haviland
Age: Not polite to ask
Birthday: Dec, 29
Location: Alaska & Oregon
Best Friend: My husband (Marty)
The story of my inspiration
Yes, it's true. Just like the woman in the first chapter of 'Naked in the Winter Wind','
I really was given a historical romance novel as a Christmas gift. My eldest daughter
sent it along with a little homemade gift tag that said the story was about the world 
perfect man. I read and I read 'till the 'Outlander' stories ran out, and then
encourage by Diana Gabaldon, decided to try my hand with my own character and storyline.