Time Travel Anonymous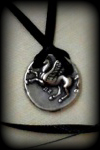 If you'd like to get the early releases of the next novels (there are several), join Time Travelers Anonymous. I'm always looking for beta readers, and would love to have input on what (or whom) you like most and would like to see more of.
Send me your name and email address and I'll send you a start up kit with prints and book markers. You'll also be entered to win an "Evie necklace," just like the one Evie wore when she...well, if you have read the books, you'll know that an ancient Greek drachma is involved. I have a couple of reproductions that are drilled just like hers. Maybe it will get you back to where you want to be...
Just drop me a line and tell me you'd like to be put on the mailing list to get early reads and other goodies.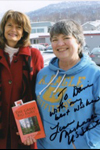 REVIEWS
Alaska U.S. Senator Lisa Murkowski sent me a letter spring 2013 and asked me to meet her when she came to Eagle River (I had sent her a thank you letter for the job she did on a project and she was grateful; I don't think our elected officials get thanked very often). I gave her a copy of THE GREAT BIG FAIRY. She was glad to have it, said she'd read it soon, and was fascinated with the Revolutionary War era. Thanks for all you do for Alaska and the USA, Lisa!
In the last 3 years, these are the first books (DANCES NAKED and THE GREAT BIG FAIRY) that I have finished "just for fun". After I started them they were so entertaining that I finished both of them in just one week!!
The writing style was not like any I had read before a lot more twists and turns than most stories have.
I love Danis sly hand at writing- kept me interested end to end- very engaging and interesting- witty and fun
What a great combination of gritty survivalist details, romance and time traveling fantasy! If you're interested in that combination you're going to love this series. The characters end up living in your head well after you've finished the book.
A fun fantasy tale of love and family dynamics, good and bad that travel through time (literally with time travel) and generations. The author is adept at portraying both horrifying family relationships and tender, loving ones. Even though bad things do happen in this novel, the comforting, gentle portraits of good families who really care for each other is what pervades and keeps you turning the pages.